I was driving into work on Friday night when in the work car park my engine cut out and masses of faults came dinging up on my screen.
Engine. Gearbox. Steering and braking faults showed up. I plugged in my fault reader and 9 faults came up most about communications. I took the car to a local garage who seem to think it's the DPF as it's chock full. Could this result in all those faults. At first the aa and the garage thought it could be the alternator as a lie batter can cause faults like that.
Below is a couple of screen shots of the faults.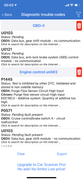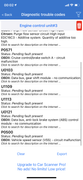 Thanks.
Gary.