East Lothian's day in the spotlight comes to an end so here's a Zoe in Dunbar Garden Centre car park. DBC has some new "Fast EV Chargers..gratis I believe is the intention, but just over the road to the ASDA and Marston's Pine Martin where they do a very nice rotisserie chicken, is an Osprey Rapid Charger. If you come down the A1 or up it you will see the large Dunbar Bear, ( a tribute to John Muir) and the offerings for the quick stop off.
A tribute to John Muir at Dunbar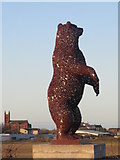 © Copyright
M J Richardson
and
licensed for reuse under this
Creative Commons Licence
.
_________East Lothian Done_________
Regards Neil