Moderator: RichardW
Messages: 10 • Page 1 of 1
Trainman

Donor 2018
Posts: 2585
Joined: 21 Aug 2009, 11:58
x 11
I think I'm in lust

wonder if
will fetch me one

http://www.autocar.co.uk/car-news/beiji ... ndisguised
" onclick="window.open(this.href);return false;
---
Citroenmad

Posts: 8110
Joined: 04 Dec 2008, 23:08
x 28
Looks interesting

I wonder if people with heads fit in it? Looks a bit low!
Can't wait for that to come out, is it hydractive?

---
myglaren

Forum Admin Team
Posts: 18378
Joined: 02 Mar 2008, 14:30
x 1098
---
andmcit

Posts: 4299
Joined: 03 Mar 2005, 18:59
x 17
I feel really disappointed with this and see the direction they're moving in is
away from the nicer recent past stuff. Anyhow the problem with Citroen
these days, is that any promo concept stuff is millions of miles away from
anything that see's production even in this brave new world of small niche
runs and the DS more bespoke premium stuff that could justify production.
When you consider the Airdream, Lignage and then the newer Numero 9
and Metropolis it's clear that Citroen's design language of Internationalisation
for the brand actually means Chineseation and I can't feel too enthusiastic
about their taste/styling in many things sorry.
From this:
and
some
of these which still remain quite clean and elegant styling studies:
we see the more visually challenging: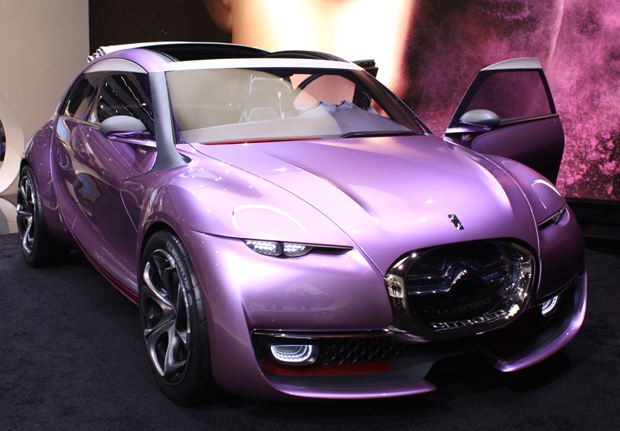 and this latest Numero 9:
Unfortunately with all these concepts offered, this change in spikier
fussier layered styling is all rather academic anyhow as Citroen are
all mouth and no trousers when it comes to reality.
Nothing to see here, move along now...
although...
I suppose we have just got this so we can see where it came from:
Last edited by
andmcit
on 06 Nov 2012, 23:51, edited 1 time in total.
---
Citroenmad

Posts: 8110
Joined: 04 Dec 2008, 23:08
x 28
I love the C-Airlounge, what a fantastic looking things. Its a bit of an MPV style car but still looks great. Why was that not built? I really enjoyed seeing that car up close, the others mentioned too. Stunning looking cars which dont have enough influence on future models.
---
Online

CitroJim

A very naughty boy
Posts: 42560
Joined: 30 Apr 2005, 23:33
x 1337
Pass the sick-bags please

Some of those are truly revolting and very similar to waht everybody else seems to be doing. Where's their imagination gone?
They'd do worse than to revisit some of their classic styles and bring them a little up to date. How about a small rework of the CX or XM and especially the DS...

---
Trainman

Donor 2018
Posts: 2585
Joined: 21 Aug 2009, 11:58
x 11
CitroJim wrote: How about a small rework of the CX or XM and especially the DS...
Something like this:
---
andmcit

Posts: 4299
Joined: 03 Mar 2005, 18:59
x 17
Trainman wrote:Something like this:
It's really ugly and pretty pointless too being so close to the (far better & prettier) original.
The usual rehash of a previous icon never normally works very well and seems to actually
go downhill rather than improve matters although the one-off Lancia Stratos and Fulvia
really do hit the mark for me. Notable failures such as the bloated Mini, ugly Beetle and
to a lesser extent the Fiat 500 which just aren't the car their inspirational ancestors - it's
with good reason of course now with all the bloat/baggage of pedestrian friendly crash
protection and half an extra car'sworth of ironmongery to get that precious 5star NCAP rating.
I say, If pedestrians expect to have airbags deploying to stop them banging their head on
the bonnet, WHAT are they doing getting in the way of a moving vehicle - how precious
and molly-coddling do the car manufacturers need to go to, to please the grey men that
believe the height of excitement travelling is having bicycle clips for their trousers?
What works (if not some original thought and concept) is purity of line and purpose rather
than something like the latest Citroen style of origami sharp and fussy hips and curves/edges.
The new stuff looks like it's been styled by a teenager after a few cans of RedBull. And another
fallacy with new styling efforts that make production is the obsession to have imagery of cars
with 32" diameter wheels with no suspension movement or tyre wall - when they make
production they get 16" if they're lucky and ride like pigs on them! The real Citroens have
covered spats over their wheels!!

---
DickieG

Monaco's youngest playboy
Posts: 4896
Joined: 25 Nov 2006, 10:15
x 14
Contrary to some of the opinions voiced above I think the DS 9 is rather exciting and right up to date, far nicer than that bland MPV breadvan device in the third photo.
---
handyman

Posts: 1109
Joined: 20 May 2003, 18:38
x 1
I assume that this will be another bedspring contraption, just like the rest of the DS range. What happened to Citroens's expertise in engineering innovation? Andre must be revolving severely.

Many of these modern 'concept' cars just look like all the numerous scribblings of students that have been put through the 'Design' mills, all the same and all bland. But then if the men in the East are calling the shots, and if PSA want to stay in business, they have to follow the yen, like everybody else.

From what I've heard about the build quality of the DSs, they seem to spend an awful lot of time going back to the dealers for rectification or repair, whilst under warranty. Some of the faults are purely down to bad design or engineering.
H
---
Messages: 10 • Page 1 of 1