There was a run out with the Traction Owners club this past weekend, "The First Uk Citroen Traction Avant Safety and Reliability Run". Which me and my dad went to, however in the 2cv and not the Traction. The Traction is going well but I needed to drive and im fully comp on the 2cv and not able to get onto the Tractions insurance policy until im 25. Not wanting to risk driving the 6H thrid party I took the 2cv. Despite being in a line of 18 Tractions it coped very well, often beating the Light 15s up the hills

The run was excellent, very scenic, taking into account some attractions, 3 stopping places and some of the most steep and twisty roads around. It was great fun! 220 miles I did in total and the 2cv never put a foot wrong, a lot of fun, we were in hysterics quite often

A picture or two of from Sunday: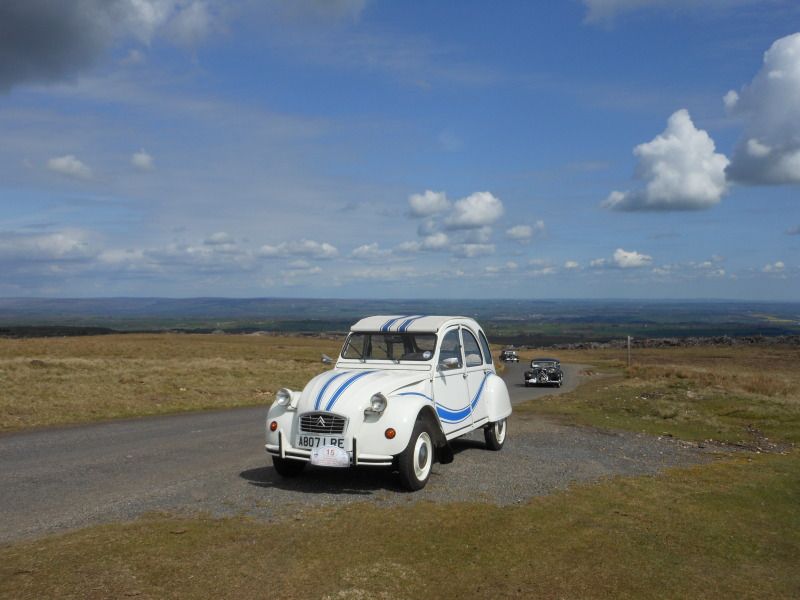 We did have the Traction out the other day for a run around and its going well. Both the Traction and the 2cv passed their MOTs last week without an advisory in sight.
I can say that the 2cv is very very soft in its ride now, the roads were quite bumpy but not hugely felt in the 2cv. It looked to ride better than the Tractions on most surfaces. However the degree of body roll was commented on by a few, I was certainly trying at times, evident from the noise of the front mudflaps brushing the ground (they are about 5-6" from the road normally!) of some corners! I took the satnav with us and it reached 76mph at one point, the speedo was showing ......... 77/8mph!

I didn't think it would have been so accurate. It doesn't really feel like 76mph though, it feels more like you have passed through the sound barrier and going for the land speed record.
Its getting constant tinkering, the other day I did a bit with the interior, gave it a good cleaning, removed the radio (what is the point of a radio in a 2cv!?) and speaker and gave it a general tidy. We also set the suspension height again and gave it a service ready for the weekends run out.
Today sees the end of a spending spree on the Activa for a while, its got everything it needs for now and more. I have spent around £1,000,000
(read over £650)
on it in the last month. Ive been keeping a bit of a record on its costs, think ill stop adding it up now, its quite a large figure

Today it got its replacement bottom radiator hose and fresh coolant, to follow its radiator replacement a couple of weeks ago. The hose gave me a bit of a surprise at £77, but not too bad.
The Activa is behaving itself well, I can't think of anything it needs next, mechanically. I have no doubt tempted fate there!

Its still surprising me in the way it drives. I have sourced a pair of Activa alloy wheels from Robert, which arrived recently. I originally wanted one to replace the spare wheel which was a VSX alloy and I have now passed that onto davewithington. Since the Michelins I had on the front were aging badly I removed them and fitted these two spare wheels which came with 'Prime Well' tyres with around 5mm of tread. Now, I dont usually get on with budget brands but these are an improvement from the Michelins. Dry grip is much improved, they seem to flex less under heavy conrering and wet grip seems better. They will not be staying though and new tyres will be bought at some point. For now these are servicable and quite decent actually, though I dont see them lasting long. Ive only used the car twice since fitting them and the edges are looking quite shaved already. I have no idea why that could be


I'll be very glad when May is over, too many assignments, a pretty intense exam on Thursday and a 5 day field visit trip with assessments in a weeks time. Plus a drive down to Northhampton and back in a day to attend a training day for work next week. To top it all, im a year older as of tomorrow. Im thinking there might be a perk to being 25, in that my car insurance will lower, ive been getting quites as its due this month and nope, its just getting more expensive!